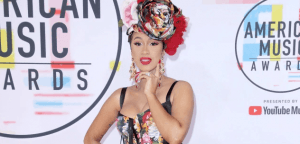 Last's night's American Music Awards might as well been called "Ladies Night." Women dominated the proceedings by taking home awards and delivering jaw-dropping performances. One specific jaw belonged to Taran Killam of "Saturday Night Live" and "Wild N Out" fame, whose mouth agape reaction to Cardi B's "I Like It" performance has made the internet rounds. But it was Cardi B who stole the night, as the Bronx native hit the podium three times to collect awards for Favorite Rap/Hip-Hop Song ("Bodak Yellow"), Favorite Soul/ R&B Song (Bruno Mars' "Finesse" remix) and Favorite Rap/ Hip-Hop Artist. Beyond the trophies, it was Cardi's colorful, cultural and instantly iconic performance that turned the entire Microsoft Theater into Carnaval in Cuba meets Fordham Road in the Bronx. 
 
Taylor Swift, fresh off of taking her first-ever public political stance, focused on music for the night as she lead off the broadcast with her single "I Did Something Bad." There's no more ironic song title for the proud Tennessean song bird, as it was all good for her. Even Donald Trump, who says he likes her music "25% less" since her Sunday politically charmed Instagram post, would have a hard time hating on Swift as she continued her reign winning the AMA's top honor, Artist of the Year. Less forgiving of Switft may be the BeyHive, which likely had to take a double shot of Dusse to calm their nerves as Swift also was awarded Tour of the Year, beating out such notables the Beyonce and Jay-Z stadium extravaganza "On The Run II" and Bruno Mars' "24 K Magic World Tour." While that victory may have been a shocker, it was no surprise that Swift got Favorite Female Artist, Pop/Rock and that her Reputation LP was awarded Favorite Album/ Pop Rock. Swift's wins saw her surpass Whitney Houston as the most decorated female ever at the AMAs. 
 
While Swift stayed away from any heavy statements, AMA host Tracee Ellis Ross was declarative in words and in her audaciously beautiful garments. The star of "Black-Ish" wore clothes made by black designers from the legendary Dapper Dan to CD Greene. The most outspoken of her night's wardrobe changes was the simply stated but powerful "I Am A Voter" tee shirt. 
 
Ciara had the biggest assist of the night, bringing her longtime friend Missy Elliott out for "Level Up." CiCi and her dancers wowed with premiere choreography. Jennifer Lopez's "Limitless" performance concentrated more on her vocals than her traditionally pristine dancing, but she still had flair, as did the timeless Mariah Carey who debuted a new song "With You." Everyone is talking about how Carey barley moved while singing, but she did have a gaggle of dancers, some of whom emerged from her pink dress.
Other highlights included Newjack Ella Mae, walking from the crowd to the stage during "Booed Up," and Gladys Knight delivered an ultimate diva move by descending from Heaven to grace us all as she paid tribute to her friend Aretha Franklin. The 74 year-old was backed by nothing but perennial all-stars, Ledisi, Donnie McClurkin, CeCe Winas and Mary Mary. With a picture of a smiling Franklin angelically posted in the back of the stage, the Knight-led contingency erupted with a forceful and emotional medley of Gospel records that were stirringly soulful.
And of of course, one of the night's most poignant moments occurred when XXXTentacion's mom Cleopatra Bernard appeared onstage to accept her son's posthumous win for Favorite Soul/ R&B album. "I'm so nervous, you guys," said Bernard, who also was present to accept her son's award Saturday at the BET Hip-Hop Awards in Miami. "I am honored to accept this award on behalf of my son. I would like to thank the AMAs, his fans, and to everyone who made this possible. Thank you guys so much. I appreciate it."
Click here for the full list of winners from the American Music Awards.
https://en.wikipedia.org/wiki/American_Music_Awards_of_2018