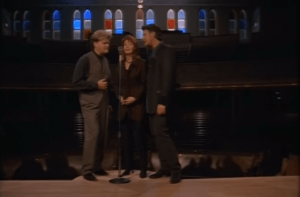 Last night, at a country bar called Borderline in Thousand Oaks, California, tragedy hit the country music community again. Former Marine Ian David Long went in with a handgun and killed 12 people, including students there for College Night, and a deputy who went in trying to save lives.
Unbelievably, some of the people who survived last night's shooting were also at last year's Route 91 Harvest Festival when that horrible mass shooting happened, including an employee of the Borderline Bar. One of last night's survivors who was also in Las Vegas during last year's attack told CBS News, "We're all a big family and unfortunately this family got hit twice."
This is a bar where countless country stars have played and thousands of country music fans have gone to have a fun night out. Jerrod Niemann played there just last month. Singer/songwriter Aubrey Sellers, who is Lee Ann Womack's daughter, had planned to be at Borderline last night, but at the last minute she changed her plans because her cat's eye was swollen shut. Her cat may have saved her life.
I don't have any answers. I know thoughts and prayers are getting cliché at this point, and they're obviously not fixing the problem. But after we've done our part and voted for the people who are supposed to enact change, it often feels like thoughts and prayers are all we have left.
As of the time of writing this, not all of the people killed have been identified. But this is for Ventura County Sheriff's Sgt. Ron Helus, Alaina Housley, Justin Meek, Cody Coffman, and all the others who lost their lives while just trying to have a fun night listening to some good country music.